How to Serve &
Worship Our Mistresses
 We only accept slaves who have a genuine desire to submit to and worship a Mistress. Slaves must understand their position and act and speak with due humility and deference at all times.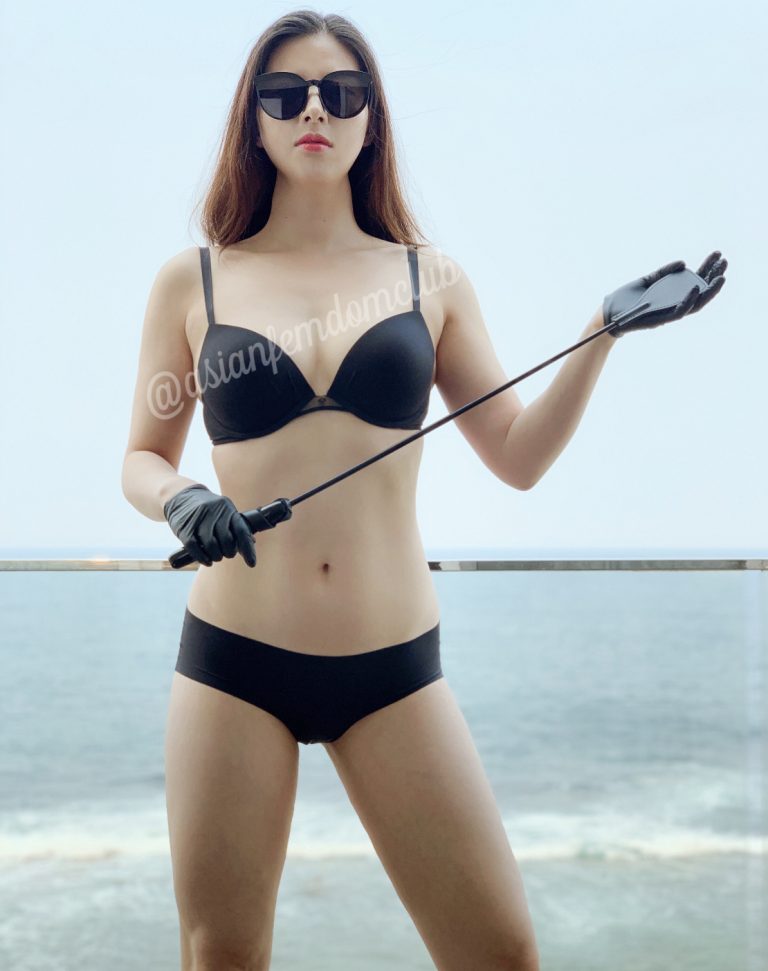 We train our slaves to maintain discipline; endure pain, suffering and humiliation; as a physical demonstration of submission and worship. We expect our slaves to maintain their health and fitness to serve our Mistresses well.

NB: 1) We do not provide any kind of sexual services at all. Do not ask! In fact, sex at the Club is strictly forbidden. Secondly, slaves serve their Mistresses, not the other way around. 2) If you have any queries or there is any form of training not listed above – then ask. 3) Not all of our Mistresses provide all of the training activities listed above so it is best to enquire when arranging a training session.
Rules & Protocol for Slaves
Asian Femdom Club Rules – Breaches May Attract A Ban
All training must be safe, sane and consensual. Sessions of an extremely dangerous nature are forbidden, but certain activities that slaves may wish to be trained in may contain risks that cannot be mitigated. If any activity carries particular risks, slaves will be made aware of these risks beforehand and will be required to consent to proceeding with the activity.
The safeword provided for a training session can be spoken at any time – even if the slave has been told to be silent. Safewords are for both a slave and a Mistress's protection. A slave must be careful not to take more than he can handle – safety comes first.
Sex or any proposal of sex is forbidden.
Drugs and alcohol are forbidden and no one shall be under the influence of drugs or alcohol while at the Club.
Respect everyone's privacy and never speak of the Club outside of the Club.
Slaves must remove all clothing as soon as practicable during a training session and remain naked throughout a session.
Be punctual. Take care to arrive at sessions early and if you will be unable to keep a time commitment, you must contact the Club by phone to explain the delay and recommit to a revised arrival time.
Be reliable and have integrity – mean what you say and say what you mean.
Mistresses and slaves must respect each other and their own roles.
Be honest, upfront and transparent. Slaves need to voluntarily disclose upfront basic information such as experiences, fantasies, health concerns, boundaries and limits prior to registration. Lying or being less than candid can only lead to problems, as the Mistress will base the scene on inaccurate information, which can be dangerous.
Any slave suffering from any relevant infectious illnesses e.g. cold/flu may not serve our Mistresses until he has fully recovered and is no longer contagious.
Time-wasting – both deliberate and negligent is forbidden. Common examples include: failure to read instructions prior to communicating with the Club due to laziness, reckless indifference or feigning ignorance of our instructions, being unreliable etc.
Training Protocol – Breaches Attract Punishment
I will not speak until spoken to.
I will serve, obey and please Mistress.
I will not do anything unless instructed by Mistress.
I will address Mistress by Her proper title at all times.
I will perform the Kowtow Ritual at the beginning of every session under Mistress's guidance.
I will always thank Mistress for an opportunity to serve whether it was doing a chore or being whipped – I must show gratitude for punishment and or discipline.
I must confess to disobedience and take responsibility even when Mistress is not present and beg for punishment and or discipline.
I must always maintain the punishment position during punishment.
I will not use furniture and will kneel on the floor until my services are required.
I will be clean and pleasant to all the senses at all times.
To receive pleasure I must earn it.
I must be both specific and explicit in my speech.
After taking off my clothing, I must fold it or place it neatly as instructed by Mistress.
I will refrain from passive-aggressive behaviors or dishonest behaviour designed to manipulate Mistress e.g. baiting punishment.
I must never show disrespect towards Mistress in any way – no matter where I am – in her presence or not.
I will endeavour to stay fit and healthy because I understand to best serve Mistress I need to be in good physical and emotional health.